Late Onset Seizures
9th April 2014 - The Field Spaniel Society of America (FSSA) have started a survey asking anyone who has had a Field Spaniel with siezures not just Late Onset Seizures, to please fill in the form and send the details to the address/email at the bottom of the downloadable form.
We as Field Spaniel Health Charity are promoting this, and will also be collating with other Countries in this research. The more information that can be collected, can only be profitable to the Field Spaniel breed in the future. So if you have had a Field that has suffered from this traumatic problem, please submit as much information as possible - Thankyou
To download the FSSA Seizure Form click HERE
Late Onset Seizures
The Kennel Club's health survey, completed by Field Spaniel owners, highlighted that neurological problems (including epilepsy) was the third highest health problem in our breed, behind tumours and old age.
The veterinary profession have recently established that repeated seizures or epilepsy with no obvious cause can occur in dogs at this age. This is a recent discovery and the term late onset idiopathic epilepsy was created to describe this.
This survey however could not determine precisely what the cause for this was. There are many causes for seizures, including trauma, toxins, tumours and of course idiopathic. Idiopathic epilepsy is a diagnosis by elimination. That is, they look for other causes of seizures and if they can't find any, they make the diagnosis of idiopathic epilepsy. At this time no one yet has been able to determine which applies to the Field Spaniel. There is a protocol provided by the Canine Epilepsy Network that can be followed that can ascertain whether an outside cause can be determined. Not only that but it will also provide a baseline from which to watch for potential side affects of anti-epileptic drugs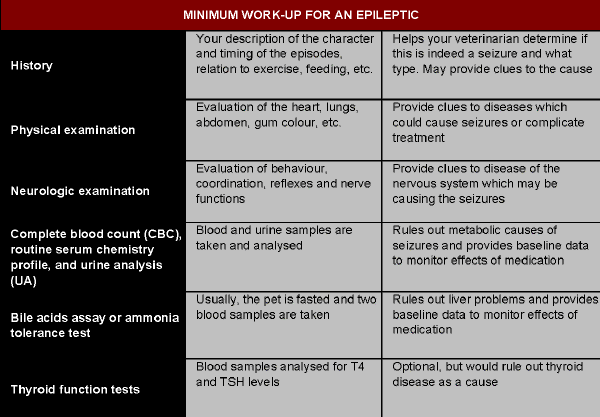 Some owners are unable to deal with the seizures and have their dogs put to sleep. In these cases it would be useful to have an autopsy done to help determine the cause of the seizures. We need for more people to follow this protocol once it is determined that their Field has had a seizure. There have been at least two Field Spaniels that have followed this protocol and have been diagnosed as late onset idiopathic epileptics
We are researching the problem of Late-Onset Seizures in the Field Spaniel trying to ascertain a cause and if there is a hereditary factor involved.
This is NOT a witch-hunt. Owners/Breeders cannot be blamed even if it does turn out to be hereditary. This starts to affect dogs between 5-9 years, by the time dogs have begun to display any symptoms, they have usually completed their breeding. We have no evidence to indicate that any owner has continued to allow their dog to be used after it has started fitting. Currently we do not know if it is idiopathic, or hereditary, it is also foolish to suspend all breeding programs on the possibility that a dog may be either affected or a carrier.
We need owners of Field Spaniels that suffer from this traumatic problem to complete our Health Form ( see side menu) with as much detail as possible and if possible a copy of their pedigree and send the information to our Acting Secretary Shula Shipton (full details can be found on the Trustee page)
The more information we can collect will give us a clearer view of the numbers involved and if there are any recurring incidents that lead up to the seizures.